SENSATIONAL AERO-LITE 103
A Pilot-Pleasing, Genuine Ultralight
by Dan Johnson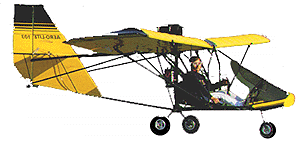 Winning yet another air show award, the Aero-Lite 103 has proven itself to be a desirable aircraft. In barely one year, streamline tube maker Terry Raber has brought his proper FAR Part 103 aircraft to market and pilots are impressed.
The Aero-Works booth attracted steady crowds at both Oshkosh '97 and Sun 'n Fun '98 while simultaneously impressing judges sufficiently to earn awards at each show. What a flying start!
To fit Part 103 an ultralight vehicle must be cleverly engineered. Terry Raber appears wildly successful at creating a machine pilots want AND which possesses the right features... namely, a large enough engine. Making the machine fun while staying within the rule is difficult enough; keeping the cost low is truly tough. In solely the technical sense, building an aircraft able to handle 40 horsepower while staying under 254 pounds empty offers quite a challenge.
It's true that these machines can be so light precisely because they are speed-limited. Low kinetic energy is one of several reasons why ultralights can be such safe aircraft to fly, despite their light construction.
You can buy an Aero-Lite 103 either ready to fly or in kit form and considering the "103" can fit FAR Part 103 definitions with a 40 horse engine, perhaps you'll find it easy to see why the sharp new ultralight quickly gathers and maintains crowds at airshow displays.
A MIX OF MANY PLANES
Observers of ultralight design see quickly that Aero-Works' new machine looked like a mixture of other popular aircraft. Commentors noted that Aero-Lite 103 has, "the nose of a RANS, the wings of a CGS Hawk, the tail of of T-Bird, the yoke of a GT-400, and an airframe that is somewhat reminiscent of the Quicksilver line." Naturally, not everyone saw the same attributes when they examined the Aero-Lite 103. Overall, many appeared to approve.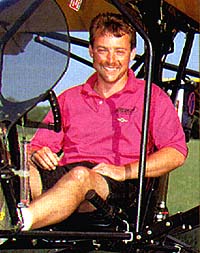 In characteristic straightforwardness, Raber is quick to acknowledge that he borrowed from others who preceded him. "We took ideas from everybody and mixed it all together," he explains. For example, the Aero-Lite 103 uses an empennage structure something like Golden Circle's T-Bird, "because the T-Bird has a real strong tail," feels Raber. He blends this with, "a large tail surface like a CGS Hawk because Hawks fly great with big tails." MANY DESIGNERS AGREE WITH THIS. Raber finished saying, "I used the same airfoil as the Hawk," noting that he's owned and flown Hawks for years and just loves the way they fly.
Borrowing from prior successes is a way of life in aviation, but Raber seems to have done so especially well. In the first couple days after the ultralight's debut at Oshkosh in 1997 - a time when most vendors feel buyers are holding back until they've seen everything - Aero-Works sold six aircraft! This is no small feat even for one of the established companies.
One easy explanation has to do with a reasonable price and a lengthy standard component list. The other has to do with the presentation Raber made; his plane was beautifully finished and looked very desirable while sitting on his rented booth space at the big show. With a new, brightly colored model for Sun 'n Fun '98, Terry again managed to play a good drawing card.
PRICE + PERFORMANCE = VALUE
Although the Aero-Lite 103 manages to fit FAR. Part 103 to the letter, it isn't some bare bones machine. Often the powerplant alone can confirm this fact.
Aero-Works new bird comes complete with a 40-horsepower, twin cylinder, two-stroke engine from Rotax. This is a change from the Oshkosh '97 debut aircraft where Aero-Works used an American-made 2si powerplant. Now Terry's company is going with the very popular Rotax brand which dominates ultralight aviation. This imported engine costs more than the one from 2si and is heavier, but boasts an excellent American-based support network when service is needed.
Like other popular 103 designs, Aero-Works is smart to use a higher horsepower powerplant with twin cylinder smoothness. Overwhelmingly, buyers have voted with their pocketbooks and insisted on larger engines. Through innovative engineering, several ultralight companies have made 103 aircraft that can stay on the FAR-imposed weight diet and still provide powerful engines.
The Aero-Lite 103 is a sweet-flying, good-performing, FAR-compliant ultralight that can be bought ready-to-fly and for a very modest $11,000. Is it too good to be true? To some extent the answer is yes, as the supply of factory-built planes for a bargain price is very finite. Aero-Works believes they can build five aircraft a month, an improvement from the two a month rate estimated after Oshkosh '97. And contrary to earlier information, they WILL be offering kits as well as fully built models. The kit will go for an equally modest $8,500 complete.
"We would like to keep the business a small Mom-and-Pop organization," said Raber. "We want to know the customers personally, and we want to keep them happy. When a customer calls for a part or with a question, they'll get what they need."
Who DOESN'T want to hear such a philosophy of business? It's great to be well treated by an aircraft manufacturer. However, while such a customer-oriented attitude may keep the order book full, it nonetheless means you may have to wait your turn at getting one of these attractive little aircraft.
Fortunately, a good philosophy isn't all you get with the Aero-Lite 103. Indeed, consider the following list. A finished "103" includes items that are commonly options on other aircraft.
Standard equipment includes brakes, three-blade nylon prop, seat-back fuel tank with quantity gauge, infinitely adjustable flaps, six-inch aluminum wheels, a panel full of instruments (altimeter, airspeed, tach, EGT, CHT, and slip-skid indicator), plus four-point restraint system, front fairing with generous windscreen, and stainless steel push-pull cables. The only option Raber mentions is the BRS parachute; his show plane was so equipped.
The above list may be part of the kit, but you cannot use it all if you want to stay within Part 103. Some buyers will take the kit plus all the goodies and N-number their Aero-Lite. However, many will want the genuine 103 version.
According to Raber, you must use a two-blade wood prop, and the standard aluminum wheels will be replaced with plastic ones. You'll have to forego the brakes and the windshield must shrink. Terry indicated you still get these items but that his design can't make weight with them and the Rotax 447 engine.
Any such equipment list is subject to change, so be sure to contact the company before going to draw the money from your bank. At either $11,000 (ready-to-fly) or $8,500 (kit), the Aero-Lite 103 is a great value. You'll pay TWICE that for the AVERAGE new automobile. Some readers may conclude that I am being too kind to Raber and Aero-Works but I don't think so. Plain and simple, Raber has made the Aero-Lite 103 an excellent value. Whether it's the ultralight for you gets into other areas of personal preference.
A LOW PRICE ISN'T EVERYTHING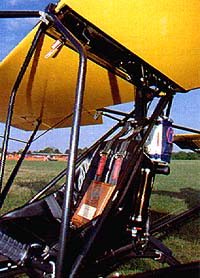 Entering a "103" involves working your way around the struts and a wraparound tube that strengthens the cockpit. At rest on its tail, you'll bring the nosewheel down as you seat yourself. This is common for rear-engined tri-gear designs.
Ground handling during taxi operations as well as takeoff and landing phases is excellent thanks to a closely coupled, wide-swiveling nosewheel and main gear brake system.
The brake lever itself is unique. With your left hand, you operate the motorcycle-style, twist-grip throttle which is mounted on a lever by your left thigh. This same lever operates the brakes, which you pull up to activate. Thanks to a clever design, you can reposition the lever to make it a comfortable reach for your arm length.
Aero Works' Aero-Lite 103 possesses a superb roll rate that responds well to your control yoke input. Pitch is also responsive though not sensitive. Overall, controls coordinate well between roll and yaw, making the "103" a pleasure to steer around the sky.
Takeoffs are quick and landings are short in the Aero-Lite 103. Some of the ultralight's take off and landing performance is thanks to an overhead hand-cranked flap system. The flaps can be set at any angle up to approximately 40 degrees and this can help shorten take offs and shorten landing approaches.
You'll climb out at 40 mph and approach at 40-50 mph depending on conditions, and you can rely on the 40 horses to push you authoritatively into the sky. Coming back to the airstrip, Aero-Lite 103 easily handles crosswinds of 12-15 mph.
Controls also operate very smoothly, thanks to the use of some interesting push-pull cables. Raber indicated to me that these are exceptionally flexible control links, which addresses one concern of push-pull (Teleflex-type) systems. Terry claims, "You can tie them in a knot and they'll still operate fine." I didn't try this experiment, but certainly, I had no complaint about the way they operated in flight. In addition, the push-pulls are redundantly connected. Should one hang up you'll still have the other.
Cruise speed on the Aero-Lite 103 is about 50 mph at trim but this genuine ultralight can only run 63 mph in max level flight, according to the standards documented in Part 103. It DOES comply, in my experience. Never-exceed speed is listed at 75 mph, generously above the 63 mph full-power-in-level-flight requirement of FAR. Part 103. Stalls are very mild affairs with the break coming at around 25 mph indicated, perhaps a shade lower when you extend the large flaps to their maximum 40 degree angle.
The Aero-Lite 103 has its share of adverse yaw, a necessary byproduct of an ultralight which exhibits such potent control authority and quick response rates.
Use of a three-blade prop, when added to twin-cylinder detonation, aids the sensation of smoothness under low power situations. It should make the Aero-Lite 103 a bit quieter, and many observers presume that a plane is better equipped with three composite blades versus an "old fashioned" two blade wood prop. Unfortunately, due to the higher weight of the Rotax 447, only those who N-number their "103" may legally use the nylon prop.
BETTER ACT NOW!
About the only significant problem you might have with the Aero-Lite 103 is getting one. While I deeply respect owner Terry Raber's decision to keep the business small and intimate with its customers, the more interest customers show in the "103," the longer they'll wait to get one.
Long wait or not, you simply cannot afford to ignore this delightful flying machine as you examine the universe of ultralights available. I suggest you give Terry and Aero-Works a call and discuss your interest. If you have to wait because the line is busy, it is probably because other pilots agree with me that Aero-Lite 103 is a desirable machine. For more information about the Aero-Lite 103, contact Aero-Works, P.O. Box 103, Millersburg, OH 44654, phone 330-674-9715, : 330-674-1559
SPECIFICATIONS
Wingspan -- 26.8 ft.
Wing area -- 124 sq. ft.
Length -- 17 ft.
Empty Weight -- 250 lbs.
Gross Weight -- 520 lbs.
Fuel -- 5 gallons
Load Limits -- +4.0 -2.8
Never Exceed Speed -- 75 mph
Stall Speed (no flaps) -- 30 mph
Stall Speed (full flaps) -- 28 mph
Climb Rate -- 800 fpm
Take-off Roll (best flaps) -- 175 ft.
Landing Roll -- 150 ft.