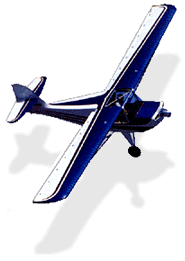 Some people get to have all the fun - or so it seems! The fact of the matter is, they usually create that fun for themselves. Jim Raeder of Caldwell, Idaho is a good example of someone who falls in that category.

A native of the Akron, Ohio area, Raeder started flying when he was 16. He earned the money to learn to fly by "waxing my uncle's Cessna 310 for two years and trading that work for some dual instruction in a Cessna 150." Although he soloed when he was 17, Raeder stopped flying after about 10 hours for financial reasons.

After high school, he decided to attend the University of New Mexico to major in photography, but after about 3 semesters realized his interests revolved around airplanes. He enrolled at the Spartan School of Aeronautics in Tulsa, Oklahoma and graduated in 1983 with an Airframe and Powerplant mechanic (A&P) rating.

In the meantime, Raeder had written to Dean Wilson of Avid Aircraft for some information about the Avid Flyer when it was first introduced earlier that year. In response to that letter, Wilson called Raeder and asked him if he'd be interested in coming to Idaho and working at the Avid factory. After some conversations, Jim agreed he'd come to Idaho and try it for a month to see if liked the area and the job opportunity. Except for a year working for Kermit Weeks Air Museum in Florida in the late 1980's, Raeder's been in Idaho ever since. "The chance to work at Kermit's Air Museum was an opportunity that couldn't be purchased at any price, but I wasn't too impressed with Miami and the Florida summers."

Raeder's first personal airplane project was an original Avid Flyer which he completed in 1985 and flew for about 500 hours before selling it to some folks in Norway When Wilson began working on the prototype Avid Magnum, Raeder started building his own personal Magnum as well, but knowing he was planning to do a lot of back country flying, he made a number of modifications. "I extended the wing span by two feet because I wanted good slow speed capabilities - slow landing speeds and short take offs as well. I modified the vertical fin and rudder, making the fin about five inches taller to compensate for the longer wing and because I anticipated flying the aircraft on floats and skis. I also added larger wheels and tires and a larger, pneumatic tailwheel for back country flying, and I made a one-piece, solid aluminum turtledeck, trying to save weight." By going easy on the instruments and paint and using aluminum instead of chromoly for the door frames and building the rest of the door from Lexan, Jim was able to save even more weight. "My airplane weighs 970 lbs. empty whereas the prototype Avid Magnum weighed about 1,035 lbs. That gives me about 150 lbs. of baggage capacity, and there's lots of volume, so I can get my full-size mountain bike in the baggage compartment along with all the camping gear I need."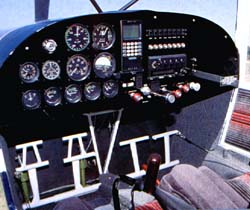 Other changes Raeder made to accommodate his back country flying include the addition of a baggage shelf behind the seat to hold maps and other small equipment, and a six-gallon header tank behind the seat to increase the range of the aircraft a bit. Raeder uses a portable Garmin GPS unit that is removable from the panel. "It's removable so I can take it with me when I go hiking in the back country. That way I can always find my way back to the plane. And, I don't have to worry about someone stealing it while the plane sits overnight."
Power for Raeder's Magnum is a 150 hp Lycoming O-320 as he wanted the option to be able to use auto gas if he wanted. That's also the standard engine the Avid factory recommends for the aircraft. At 10,000 feet altitude, his climb rate is about 1,000 fpm solo; he estimates it's closer to 1,900-2,000 feet at sea level.
Although the fuselage for Raeder's Magnum was the first off the production line, many of the parts in Raeder's aircraft had to be hand built from scratch as the tooling didn't exist yet, but after three years of working on the aircraft in his spare time, it was completed in 1995. Since then he's logged over 750 hours in it, flying to numerous back country sites, back home to Ohio to visit family, a trip to Old Rhinebeck Aerodrome in New York state, as well as annual trips to Oshkosh, Sun 'n Fun, Copperstate and the Arlington, Washington fly-in. In other words, this airplane has crisscrossed the country several times, and he's had lots of fun along the way!