Dan Horton's Classy Canuck
Grand Champion Light Plane at EAA AirVenture Oshkosh '98
by Mary Jones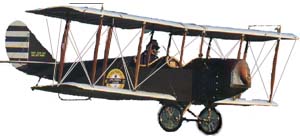 Most craftspersons who build an airplane from plans or a kit frequently have a favorite part of their airplane. For some, it's the wings or tail surfaces on which the covering and/or paint turned out exceptionally well. For others, it might be their instrument panel. For Dan Horton, it's a 2-1/2 ounce aluminum fuel shut off valve on the bottom of his gas tank which he made from scratch - an item most people will never see.
What makes this even more ironic is the fact that Dan's aircraft - an Early Bird Aircraft Jenny built in the Canadian Canuck version - is one of the most finely detailed, expertly covered airplanes we've seen in the ultralight/light plane area in a while. That fact didn't escape the attention of the Ultralight/Light Plane judges who named Horton's aircraft the Grand Champion Light Plane for AirVenture 1998, which certainly helped make his 17-hour trip from his home in Wetumpka, Alabama to Oshkosh more worthwhile.
Perhaps the reason Dan's so enamored with his fuel shut off valve is the effort he put into developing it - and the fact that it turned out just as he hoped, weighing a lot less than the commercial ones which were all upwards of a half pound - that is, if you call six ounces a lot less! In general, Dan's pride in the valve reflects the total effort he put into building this award-winning aircraft. No detail was given short shrift.
Altogether, Dan spent four and a half years building the Canuck, but he quickly adds he worked on a lot of other projects at that same time. Although he's completed a partial restoration on an L-4, this was his first attempt at building an airplane from scratch. He has no idea how many hours he put into the project -- "Don't know, don't care," was his response to that question. One thing Dan did do, however, was try to work on the airplane a little bit every day. He explains, "When I started this project, some of the older builders in our area told me the key to completing a project like this was to do something on the project every day - even if it was just taking 10 minutes to make a list of things you have to do or things you need to buy. I tried to follow that advice. In actuality, this airplane was built in a little short spurts of time, but I did do something on it almost every day." That leads to some advice Dan has for other would-be builders - "Don't even try to build a scratch built airplane anyplace but at home; you'll never finish the project if you have to get in the car and drive somewhere to work on the project."
Dan says he's always been fascinated with World War I aircraft and was a devotee of the late Frank Ryder and his collection of World War I aircraft. Once he saw the ad for Dennis Wiley's Jenny and sent for the information pack - well, the die was cast!
Dan elected to build the Canadian version of the Jenny because it provided him the ability to move the CG envelope backward a little. "I weigh about 220 lbs. with my leather jacket, so I'm a bit heavier than the standard 170 lb. pilot for which the airplane was designed. Consequently, I needed to extend the CG envelope back a bit. I could do that by building the Canuck version because it has a five degrees of wing stagger as opposed to the 10 degrees standard on a Jenny. That allowed me to move the top wing rearward about six inches and solve my CG problems."
Power for Dan's Canuck is a three-cylinder Suzuki engine taken from a Chevy Sprint automobile. Dan did the conversion himself. A motorcycle road racer, he was very comfortable with taking the engine apart and "rebuilding it the way I wanted from the crank up." The engine uses a belt drive reduction unit, which Dan's still refining, triple carburetors and dual electronic ignitions - a system he says everybody should have on their three or four cylinder auto conversions. "This ignition system can be built from parts that are readily available at your NAPA parts store, and it'll cost less than $275. In my opinion, you're just stupid if you don't do it." (BTW, Dan says the complete building process for this electronic ignition system has been detailed by Paul Messinger in issues 43-45 of CONTACT! magazine, Mick Myal's great powerplant publication. You can reach Mick at 2900 East Weymouth, Tucson, AZ 85716-1249, or via e-mail at contact1@flash.net.).
Everywhere you look at Dan's airplane you'll see evidence of great workmanship and a lot of detailed thought - and several examples of "scrounging" for parts - part of the fun of building a plans-built aircraft. But, rather than babble on with words, we'll let the photos of Dan's aircraft tell the story of this beautiful airplane. If you'd like to chat with Dan about his airplane, you can reach him via e-mail at DHPHKH@aol.com.