Ultralight aircraft hangers
For the past five years now I have been working on building myself an Airfield By Appt Only. It has been a long and in some cases frustrating process, with equipment breakdowns, weather, and my own physical limitations after my accident. So you can imagine how happy I was to make my first landing at my field in March.
While the field still was not ready for training, hopefully by the spring of 2000 it will be. Since 1978 I was located at an airfield just north of Toronto, while the location was central to most of the major highways, its location on top of a hill, with fairly narrow runways, many conventional planes, and the addition of a helicopter training school, made it necessary to move.
With my runway nearly finished, the next thing on my list was a hangar. With the advent of the Internet, the first thing I did was punch in the words, steel building, then aircraft hangar, and finally portable hangars. After sifting through several hundred different Web sites I was able to narrow the types of hangers to three styles.
The first was a steel building, the second a portable style, and the third was "build your own". Lets start with the "Build your own."
Over the years I have had the opportunity to travel to many ultralight flying sites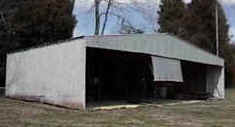 and have seen some very unique hangars, also as a regular "ultralight flyer" I come across stories and articles on just about everything, including hangars.
Building your own ultralight aircraft hangar.
There is a story with pictures on one hangar in Ultralight News at "Building an Ultralight Hangar".
There is a second "photo page" on a hangar design at "Dave Martins Hangar".


In the January 2,000 issue of UltraFlight Magazine they have a story on several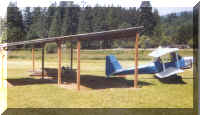 hangars, with pictures including the one to the right.

In the coverage of Airventure 99, down on the farm, in Ultralight News there is a story on a hangar which can be built from plans, available from LAPS -
"The LAPS Hangar".
Ultralight ingenuity comes up with an affordable and portable ultralight hangar.
While surfing the web I came across this hangar by Joe Brewer. Joe was kind enough to send along the following information and pictures.

We purchased the hangar from a company called OBC Northwest: They delivered a semi-gable 30' greenhouse to us for around $480. We then purchased some electrical conduit from Home depot, as well as some extension tubes for the spar connections at the top.

This widened the hangar to over 31'. From there we installed side support straps on the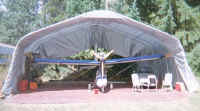 inside of the hangar, which were made of 1x6's. We erected the whole thing with three of us and a pickup. The tarp was slid over the top, and was a large (largest one we could find) silver heavy duty tarp from harbor Freight (around $125).
Flightstar hangar picture 1
Flightstar hangar picture 2
Flightstar hangar picture 3

For more information on the hangar try contacing Joe Brewer Factory Sales Representative SkyStar Aircraft Corporation (800) 554-8369 3901 Aviation Way
Caldwell, ID 83605

Once it was slid over the top using ropes and three of us to guide it over, it was secured to the front and back using small nylon rope to lace it front and back.
The points at the corners were anchored using small mobile home anchors, which got drilled into the ground. From there we secured the hangar with motorcycle straps, which occasionally get checked.
The floor of the hangar was from a local mill's conveyor belt. It was cut to accommodate the hangar (not sure if this would be readily available to someone.) The plane has a 30' wingspan, and fits into the hangar nicely.

OBC NORTHWEST INCORPORATED
1076 SW BERG PKWY
CANBY, OR 97013
Phone: (503) 222-7239
Portable aircraft hangars
Aero Dome shelter
One of the first "portable ultralight hangars" that I came across was from British Columbia Canada. The hangar by Aero Dome shelters is 48 x 37 x 12. I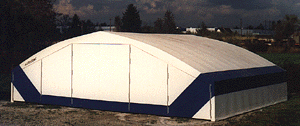 t uses lightweight aluminum trusses structural high grade P.V.C. Vinyl encasement, and features modular folding doors, does not require a foundation, and according to the manufacturer is engineer tested and approved for extreme weather conditons. They have a webpage at http://www.bannertown.com/rolladome.htm
Instant Shelters
The next unit I ran across was from a company called Instant Shelters.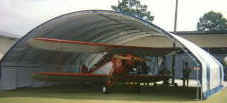 Made with Ultra Violet Ray Treated Polyester Reinforced "Rip Stop" material. This hangar uses Galvanized Structural Steel Frame which has been tested to withstand severe environmental conditions and can meet any snow or wind load requirements.The frame is designed to slip and lock together with no special tool requirements for rapid on site installation. All arches are pre-curved and attached to a continuous steel base.The base is easily secured to any surface or foundation with the factory anchoring system. http://www.instantshelters.com/hangar.html
Cover-All Building Systems

The patented Cover-All truss-arch, is constructed of ViperSteel, covered with Duraweave II fabric and secured with the Winchloc fastening system.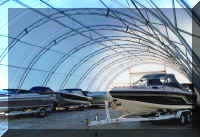 Available in clear-span widths up to 72' and in any length, Cover-All truss-arch buildings are engineered to be permanent but designed to be relocatable.

Delivered in a complete ready-to-install package, the average 72' building is designed to be fully installed in just one to two weeks. Versatile foundation options from Cover-All include ground anchors, concrete piles or floating concrete blocks.
http://www.coverall.net/web/buildings/index.htm
Coverit Shelters
While at Airventure 99 I came across a portable hangar by Coverit Shelters, several manufacturers including Zenair where using them as display tents.

They are available up to 60 feet wide and up to 30 feet high and can be any length. I believe this one is 45' x 30' Trussed 1.900 12 gauge structural, galvanized steel frame and heavy duty vinyl covered craft.- for more information
http://www.coveritshelters.com/commercial/aircraft.html
For specifications:
http://www.coveritshelters.com/technical/technical.html
The Clamshelter
Several years ago I saw a hangar at Sun N Fun that had ends on it that came down looking like an accordion, which extends your interior size and eliminates the need for a door. This unit looks very similar.
The original "Clamshelter®" designed in 1983. Ideal for use as an expeditionary structure because it can be quickly erected on unimproved earth. Clear span widths range from 28 feet to 76 feet (8.5 meters to 23.16 meters). Dense packs into a small volume for shipping. Can be installed on earth, asphalt or concrete surface. Requires no lifting equipment to install. Unique overhead rigging features to facilitate rapid, safe integration. http://www.clamshell.com/small.htm#system50
SkyShield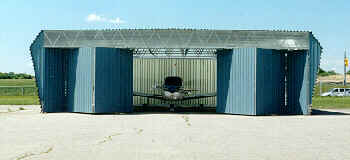 Click on picture to see doors work
The next building I came across was from Skyshield. Manufactured in Toronto Ontario. This hangar uses
galvanized trusses steel (G-90) or primed, pre-cut and pre-drilled using CNC technology. Panels are trapezoidal galvanized steel(G-90) and as an option can come pre-drilled from the factory to make assembly fast and easy. Panels are also available in the following colours as an option. (slate blue, white, bone white, stone grey) Sections above the back wall and front doors are covered with optional steel panels OR clear PVC panels which allow light into the hangar. However, if you need to keep "UV" out then you will want the special double walled polycarbonate ("lexan") as shown which comes with a 10 year warranty against yellowing. Doors are simple but efficient-no power required. Steel ball bearing rollers suspended on tracks open and close with great ease.There is also a built-in person door (4' x 10'). For more information http://fox.nstn.ca/~michaelt/product.htm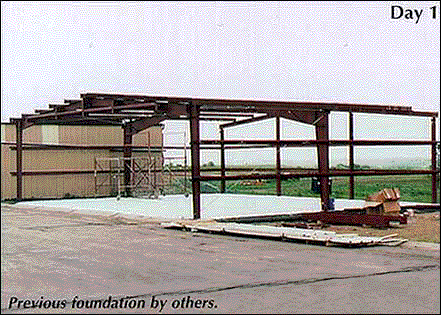 Wedgcor - steel buildings
WedgCor, Inc. offers several styles of buildings that can be used to house aircraft, a straight walled building and a quonset "dome style.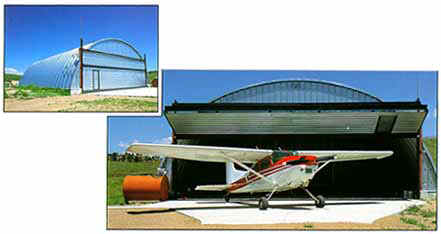 For more information http://www.wedgcor.com/aviation.html