Rocky Mountain Wings LLC of Nampa Idaho has two new planes out for 2000 The Ridge Runner UL and the Ridge Runner 11. The basic difference between the two planes is that one is an ultralight while the other fits the experimental category.
The ultralight version comes in at 250 lbs, while the experimental model is 70 lbs heavier. The only other major difference is the fuel capacity with the ultralight version having a 5 gallon tank and the experimental version 10 gallons.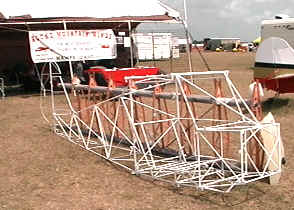 Both aircraft feature 4130 chrome-moly steel airframes, all parts are powder coated white for corrosion protection, the wing kit includes prefabricated ribs, and the kits come complete with all hardware, seat belts, shoulder harnesses, wheels, tires and 1.7 oz covering material.
Building time is reported at 250 hours.
While the aircraft might be new to the market the people behind Rocky Mountain Wings, are not. Stace Schrader has been involved with both the Kitfox and Avid factories, plus was part of the very successful Skyraider team.
For more information on Rocky Mountain Wings, LLC aircraft contact:
Rocky Mountain Wings, LLC
824 Chicago Street,
Nampa Idaho 83686
Phone/fax 208-466-6699