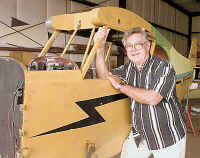 It probably explains why he chooses to live at the edge of a rural airfield -- not most people's idea of location, location, location -- alone with his thoughts much of the time. He walks to work, a rented hangar with a view of Pelion Corporate Airport's runway, about 40 miles northeast of Aiken.
There he labors over a novel about flying, solves design problems in pontoons he plans to market and, at his own pace, runs what has to be one of the most unusual businesses for miles around the small Lexington County town. If it seems an unlikely place to some, Mr. McCallum doesn't care.
``I've wanted all my life to live at an airport,'' he said. ``I'm happy as can be.''
He designs large-scale aircraft big enough for a pilot and passenger, writes manuals for their assembly and operation, and creates kits to build flight-worthy planes from scratch. Light Miniature Aircraft is the only company in the country producing kits for home-built classic aircraft.
We do everything in our heads and then double back and do the drawings,'' he said.
The kits themselves are made in Keystone Heights, Fla., but sales are accomplished largely by phone and the Internet, at
http://www.lightminiatureaircraft.com/
Builders can call or e-mail the brains behind the kits at Pelion.
Mr. McCallum has done many things in his lifetime, from selling insurance and Amway products to helping track Sputnik for the Smithsonian Astrophysical Observatory. He's lived all over the United States and in Guam.
But at Pelion's airport, he says, he's finally home. The decision to move to rural South Carolina was surprisingly easy for Mr. McCallum after longtime friend, aviator Howard Allman of Lexington, suggested it last summer during one of his periodic trips to Florida, where Mr. McCallum was living. The men had known each other since 1984, when Mr. Allman was negotiating with a company in England to build lightweight aircraft engines and paid a call on Mr. McCallum to see if he wanted some for planes he built.
Ultimately, Mr. McCallum would own the frame of the Super Cub, and Mr. Allman would own the engine.
When they talked more than a decade later about Pelion, ``I jumped at the chance,'' Mr. McCallum said.
``There's nothing but wide open space around here. It's so free. I do what I want when I want. It's my last move. This is where I'm hanging my hat.''
He lives in a modular home with his son Cliff, also a model builder. His wife, Louise, in declining health for a decade, is in Aiken in an assisted living facility. His mother, 92, is in a similar facility in West Columbia. Two daughters remain in Florida.
The hangar houses his computer; plans and manuals; a work bench where the new ideas come to life; and two of the first miniature airplane prototypes Mr. McCallum built -- a three-quarter-scale Piper Cub and a full-size Super Cub. Those and four others are listed in a national directory of home-built aircraft.
The hangar is also home to a work in progress, a reproduction of a 1941 Interstate Cadet that Lexington lawyer Lourie A. Salley III is building.
The ``unreconstructed Southerner'' and native New Englander are a quarter-century apart in age but think alike about more than airplanes, they discovered by talking while they work side by side.
``He's more of a Southerner than he thinks he is,'' Mr. Salley said of the older man, who is beginning to think of himself as a Yankee only by accident of birth.
``Ask me to do anything, and I'll do it,'' he said. ``Tell me to do something, and I won't. I'm a rebel.''
He would like to have one or two more builders working on planes in his domain. That kind of activity not only gives him someone to talk to -- which he's good at when he gets wound up -- but also helps pay overhead costs for a company based in Florida, which took awhile to recuperate from Hurricane Andrew.
Another goal is to get children interested in building model airplanes like they used to be -- the way Mr. McCallum and his son started out.
For the older man, that interest began when he was a toddler in a backyard in Gloucester, Mass., watching planes fly overhead. By the time he was 5, he was flying balsa wood gliders. Living in Portland, Maine, as a first-grader, he spent his nickels and dimes on penny gliders and practiced putting them together in different configurations.
``There was a store I used to walk by that had a stick model, made of tissue and balsa, in the window. I would stand there and stare at it. I don't know why I never told my parents that I wanted it. It was 1936, and my father was making $150 a week as a salesman -- good money for those days. My folks could have afforded to buy that plane with no problem. But I just looked at it through the window.''
He already had his secret dream of building big airplanes someday, he said, and making model planes ``became an important thread in my life.''
At 14 or 15, he got his first gasoline engine and experimented with launches, tow lines and catapults to get his handiwork airborne. He learned to read blueprints and drew pictures of his own fantasy planes. By the time radio-controlled planes were the rage, he was ready.
Marriage and family intervened. With a wife, three children and a Dalmatian to support, Mr. McCallum tried his hand at several things.
``I did so well selling insurance I was afraid I'd make too much money to ever quit and do what I'd rather do,'' he said.
But he never lost the childhood dream. At first, he said, he wanted to be smaller so he could fly in the planes he made. Then he simply decided to make big ones.
The first was a J-3 Ultralight, built with a friend, Fred Latulip. The prototype is at Pelion now.
The initial material was aluminum. The kits he is making now are for wood construction -- a process he moved to in 1990 at a customer's suggestion.
What's made it possible to run the company out in the middle of nowhere is computer technology, including e-mail and scanning.
``I'm glad it's worked out the way it has,'' Mr. McCallum said. ``There really is no place on Earth I'd rather be.''
Reach Margaret N. O'Shea at (803) 279-6895.

The above found at:
http://augustachronicle.com/stories/121399/met%5F124-4008.shtml
LIGHT MINIATURE AIRCRAFT
19695 NW 80th Dr.
Okeechobee FL 34972