The engine uses the standard VW wet sump oil system. A Zenith updraft carburator is used with a unique carb heating system used to help prevent carb icing. The oil lines are wrapped around the fuel intake.
Ignition is supplied by a single magneto. The prop is spun direct drive. All out weight of the engine is 85 lbs. According to Scott the engine is suitable for light experimentals and ultralights. It can currently be found on Mini Max, Hummel Birds, Skyraiders, and of course the Ultra cruiser.
According to Scott, "with regular maintenance, oil changes etc you can go 1500 hours between rebuilds" "rebuilds are very cheap, you are looking at about $250 in parts" "these are all off the shelve VW parts."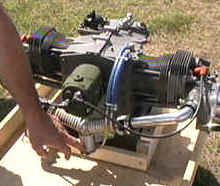 Currently the engines are prices at $3250 for the 37 hp model, $2700 for the 32 hp model and$2400 for the 28 hp model. These prices are for ready to run engines. They can also be built from plans, or parts available from Scott Casler 419-335-2147.
The Ultra Cruiser
While the Ultra Cruiser uses the same all aluminum construction as the Hummel Bird it is a completely redesigned aircraft. It has been length end and lightened for better ground stability and to fit into the U.S. ultralight category.
The Ultra Cruiser uses .016 thou, 60 61-T6 aluminum rivet together construction. Currently the plane is only available as a plans built plane, but pre formed parts will soon be available.
The average builder building from plans should be able to complete construction in about 800 hours, using standard metal tools, with a brake helping to speed building. A construction and flying video is available. It is anticipated the plane will be available ready to fly in the near future.
The Ultra Cruiser is legal all metal Part 103 legal ultralight when powered by the reliable 4 stroke half Volkswagen engine. It has a canopy and heater for all weather flying, and the canopy can be quickly and easily removed for summer flying. The wings are detachable for storage.
The wing span of the Ultra Cruiser is 25 ft, with a length of 17 ft, stall comes in between 25-28 mph, empty weight is 249 lbs. gross weight with a 170 lbs pilot is 450 lbs.
For more information contact:
Hummel Aviation
509 East Butler
Bryan OH 43506
419-636-3390