Last year at Lakeland I saw one of best finished ultralight aircraft, that I have ever seen. At first I thought it was one of the Hipps line of aircraft but looking closer found it to be something totally different. I tried all week to get some information on it to no avail. This year I again saw the plane and this time I managed to catch Richard Berstling the design.

The plane is a single place, tail dragger, tractor powered by a 503 Rotax engine. The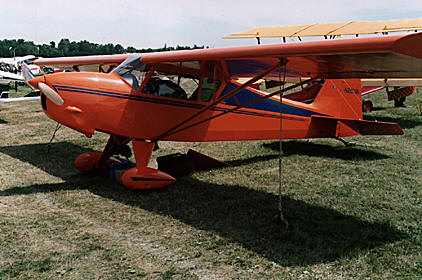 plane is offered in plans form. Welded 4130 chromoly steel is used for the fuselage, with wood truss ribs and I beam spars in the wing covered in standard aircraft covering material.
According to Richard, from plans the plane will take about 2000 man hours to build. The plans are 12 sheets, 24 x36 with full size drawings of all the components. Simple hand tools, and oxy acetylene welding equipment will be required.

Equipped with the 503 Rotax engine the plane gets off the ground, cruise speed of 90 at 5,000 rpm stall 30 mph, rate of climb 1,000 feet per minute. Controls are standard three axis, stick and rudder, no flaps.

Bellaire Monoplane Company of Liberty Aeronautical
144 Pinetree Drive
Lake Placid, FL 33852
(863) 699-6838
email: bellaire@strato.net
For a web video interview on the Bellaire Monoplane - Subscribe to the Ultralight Flyer web video magazine - Your yearly subscription gives your access to hours and hours of web video on ultralight aircraft, ultralight builders, manufacturers and accessories! Including engine rebuilding videos on the Rotax 377, Rotax 447, Rotax 503, Rotax 532, and Rotax 582, which are EACH approximately 2 hours in length!