This Ultralight Aircraft Plans package includes construction plans, construction manual and a video tape (shows the Flitplane in flight and on runway). Flitplane, has been featured in Ultralight Flying Magazine January 1998.

Tackling the task of building a flying machine is an all inspired task. Many people build airplanes to get into the air "cheaper". Many build to have something when they are through that few others have. Many just like t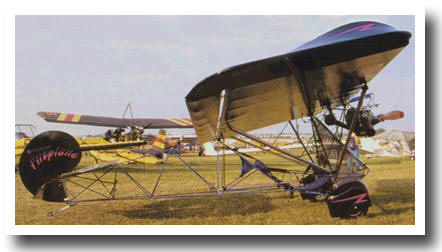 he challenge and reward of creating something beautiful. There is so much variety in the ultralight field, which is what makes this sport such a rewarding one!
The FLITPLANE has been created to provide a plans built, low cost Ultralight Airplane. No attempt was made to design the machine for high volume production. The main goal was to get people out in their garages or down in their basements building airplanes again, rather than wishing they could afford one currently on the market.
The beauty of this plans built Flitplane is that it can be built as the builder can afford it, at little at a time. Not everyone has $12,000+ on hand to purchase one of the "Tinker Toy Kits". Build a sub-assembly a week from these plans, wrap it up or bag it for protection, label it... and in no time your very own "Kit" will be ready for assembly.
The FLITPLANE was designed to use conventional construction of a 4130 steel fuselage, aluminum tubing tail and wing, and fabric covering. There is nothing exotic in the FLITPLANE, it is derived from the many years of us building airplanes and paying attention to how things were done.
This plans & manual package gives you the best shot at having a good looking, excellent flying LEGAL Ultralight for about the price of a good used car.
ADDITIONAL CONSTRUCTION MATERIALS:
20+ page Construction Manual
Work Table Construction Plan
Weight and Balance Worksheet
Materials List